When you're moving house or business locations, packing and cleaning is stressful enough as it is. Then there's the challenge of finding a reliable removalist — there's just so much to organise!
The last thing you should worry about is assembling and taping up cardboard boxes. It's time-consuming, it's tedious, and when the move is over, you have mountains of cardboard boxes to either stack away or dispose of. 
Cardboard boxes make moving a real chore — but now, you can think of them as a thing of the past! 
Boomerang Box has come up with a new and improved way to move. Rather than wrestling with cardboard boxes, you can now stack your belongings in our reusable packing boxes! Boomerang Boxes are sturdy, durable, and crush-proof and can be used up to 400 times before being recycled.
Our plastic moving boxes have proven to be the superior option for moving, keeping fragile items safe and secure while moving home. No more broken heirlooms and appliances once you've reached your destination. Your belongings will stay in one shape from point A to B, thanks to the tough construction and attached lids!
Hire moving boxes online with Boomerang Box — we offer great service and a huge range of options to meet your packing needs.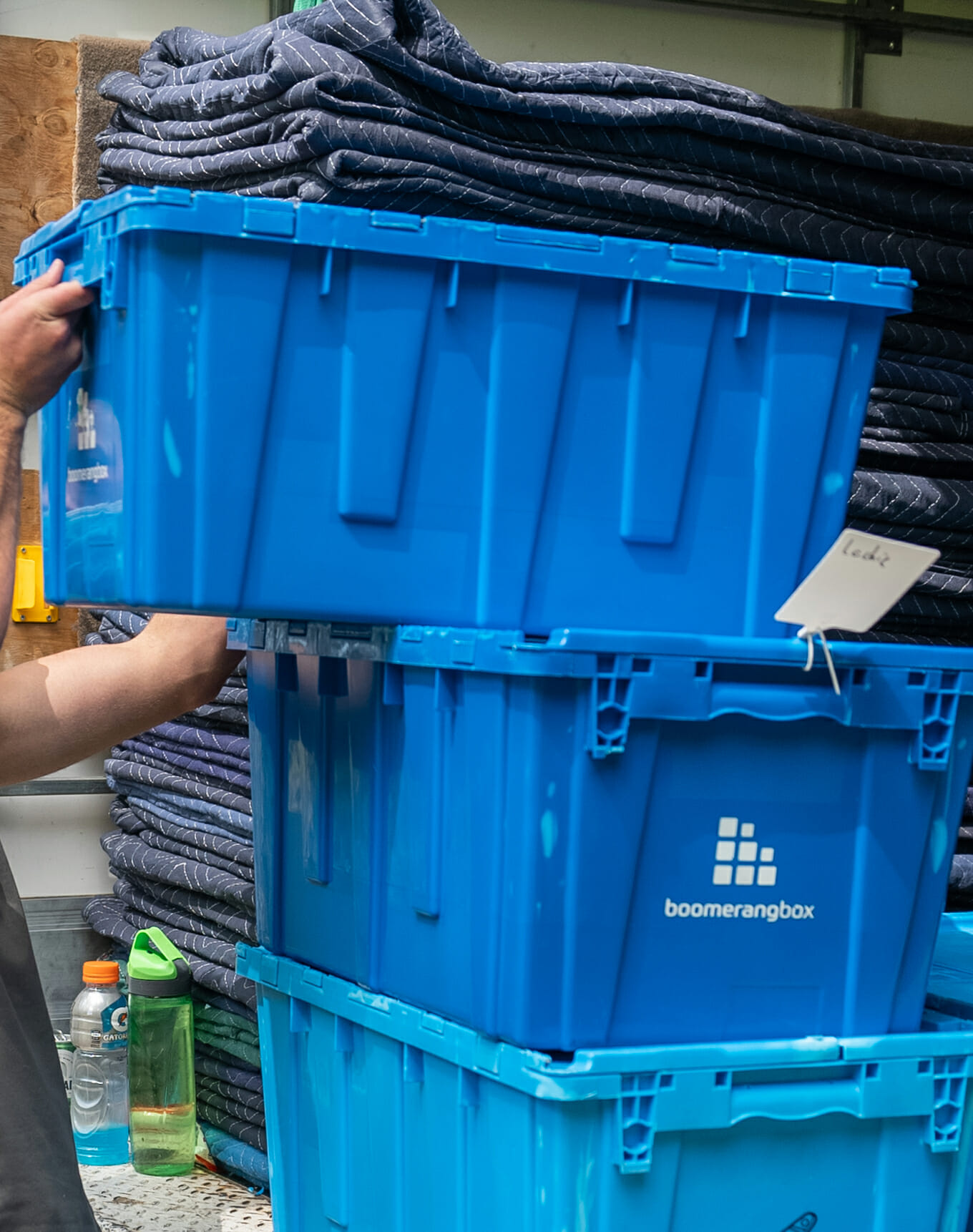 Nothing Stacks Up Against Boomerang Box
Sick of buying flimsy cardboard boxes that you need to fold into shape, tape the bottoms, the tops and the sides, then cut them open and deal with storing or disposing of them? 
Boomerang Boxes are reusable, sturdy, stackable and ready to use from the moment they arrive on your doorstep. Plus, once you're finished moving, all you need to do is give us a call, and we'll come and collect them from your location.
No more skip bins, no more trips to the tip, no more hiding cardboard boxes in storage and no more filtering cardboard into the recycling bin each week. Boomerang Boxes are the most convenient way to move.
The moving process with Boomerang Boxes is simple! All you have to do is rent moving boxes online (or over the phone), and we'll deliver them right to your door. Once the move is complete, just give us a call, and we'll come and pick them up for the next person to use.
Don't forget our eco-friendly boxes are 100% reusable and recycled. Together, we can make a difference in preserving the environment!
Here's how it works.
We collect the boxes
when you're done
We collect the boxes when you're done
Thank you for your interest in Boomerang Box!
We've been helping people with their moving and storage needs for over 20 years. So we know how much they hate cardboard boxes. And how much they'll love Boomerang Boxes.
Few people know packing and boxes as thoroughly as we do. For over two decades we've operated one of Australia's most successful moving and storage companies. Which means, over the years, we've dealt with, quite literally, hundreds of thousands of cardboard moving boxes. And thousands of customers who had the unpleasant, time-consuming and difficult task of folding, taping, packing and disposing of every one of those cardboard boxes.
What our customers have to say
We're proud of our sturdy, efficient plastic moving boxes, which is why we love hearing all the positive reviews from our customers! We've helped thousands of people move from point A to B, offering exceptional products and fantastic service to simplify the move.
Don't believe us? Listen to what our customers have to say!
This is the second time I've used Boomerang Box for a move. The boxes make moving so much easier. No stuffing around with tape, no need to dispose of boxes once the move is done and the delivery and drop off service mean that all

...

you need to do is stack them up and wait for collection.10/10, would recommend!

read more

We have used Boomerang Box multiple times, and each experience has been nothing short of fantastic. Their product is top-notch, they are consistently reliable, and their team member, Nigel, is incredibly easy to communicate with.

...

We highly recommend Boomerang Box for all your moving box needs.

read more

These are great. Sturdy, stackable and reusable. Highly recommend!

I am never buying a cardboard moving box ever again.We got the 3 bedroom moving kit from Boomerang Boxes and it was such a good decision. We also got some recycled butchers paper, labels & a marker and it was the best system.

...

Even our removalists commented on how great they were.They are incredibly sturdy and each box fits heaps! Once unpacked, they stack right back up and take up very little space. The best part is you don't have to deal with getting rid of flimsy cardboard boxes afterwards + the added enviro bonus of no waste.No need to review any other similar companies, Boomerang Boxes are the cheapest.Their customer service is on point too.I will be a life long customer of this company! Thank you for helping us streamline our move with your brilliant product!

read more

Boomerang Box crates were easy to use, no tapes required, no waste, quick to pack and easy to move on the trolleys. Delivery and drop off were quick and efficient. Customer service was excellent with quick response time and

...

queries dealt with promptly. Highly recommended.

read more

Great customer service on the number of boxes we needed and were very prompt on delivering. The best thing about these boxes is they hold a large quantity of storage, they are sustainable, stackable along with reusable tags. We

...

used these boxes for an office move, that went seemingly.

read more

The team are professional and efficient in pick up and drop off. The boxes significantly reduce the mess of moving- no tape, no box mess everywhere! They were recommended by friends- and thrilled with the experience. We will

...

always use Boomerang Box from now on!

read more

Boomerang Boxes are a game changer when it comes to moving.. it made packing so much easier.

Best recommendation ever. We moved from North Sydney to North Ryde and used the Boomerang boxes for the second time. Not only are these quality boxes easy and quick to pack, they even get delivered and picked up to/from your

...

house! Thats what I call amazing customer service! Its so much more environment friendly to re-use these boxes again rather than the usual cardboard ones. Also once you are finished packing you can stack them and be assured nothing inside the box will break.No annoying folding or unfolding of boxes. As soon as you empty your boxes in your new home you can stack them up and they are out of your way.I highly recommend that way of moving.

read more

Bommerang make one of life's most stressful times a little easier. Easy to deal with, simple transactions and great customer experience from their people. Recommend them to anyone and we will use them again

Want to know more about our reusable moving boxes for your next move? We've developed some helpful FAQs we've received over the years from our customers so that you can learn more about our products and the process itself.
Hire moving boxes and keep your items safe in transit with Boomerang Box!